BUYING PROPERTY IN THE PHILIPPINES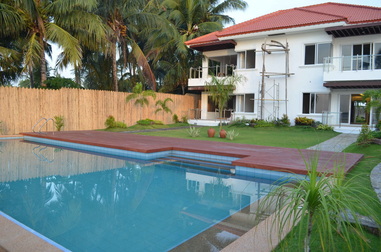 Buying property in the Philippines
If you are a foreigner, Buying property in the Philippines will most like be far different than what you are used to in your home country. This articles is a very brief attempt to answer some of the most oft asked questions. For more detailed advice please email us at info@philippine-islandproperties.com
Can an American/European purchase property in the Philippines?
The easiest way for a Foreigner to "Purchase/Own" Property in the Philippines is to purchase the property with a "Lifetime Lease Agreement" with the seller. This will give you "the buyer" full control of that property and any improvements made on the property for your natural lifetime. Another option is to incorporate a company with the SEC of the Philippines, but with this option there are also limitations to foreign ownership. There has to be several shareholders with Filipino Nationals holding holding 60 % and foreigners limited to 40%. An attorney can set this up for you ensuring protection of your investment while avoiding abuses of the "Anti Dummy" laws of the country.
I am married to a filipina, can I own property in the Philippines?
Quick answer is still no though your wife can buy and outright "Own" the property. If you want to control the property you will need to have your wife sign a "Special Power of Attorney" agreement giving you controlling rights to the property. It is prudent to have this SPA updated every few years to ensure its relevance.
I have a fixed budget, Can I buy a House/Land with Payments in the Philippines?
Yes you can. There are a couple of ways to buy property with Payments. Banks in the Philippines will make loans for approx. 50 to 60% of the home value but often at rates up to 12% interest and are more short term, usually made for only 5, 10 and 15 years. Many Property Developers & Builders will offer "In House" financing for land and/or new home purchases. Most require a 20% initial payment and interest rates usually increase with longer terms. "Owner Financing" can often be secured if the owner is motivated to sell, the property has been on the market for an extended period of time, and lastly if a large enough initial payment can be made which will encourage the agreement. Owner financing is usually less expensive, more flexible and without all the "Red Tape" involved with banks.
What is the process to purchase property in the Philippines?
After you find a property that you want to purchase we suggest having the property surveyed and the Property Deed reviewed by an attorney. The attorney will examine the Deed for any Liens against the property, legal ownership, right of way problems, etc. After the Legal Review of the property is completed and satisfied the lawyer will have the Selling and Purchasing parties sign a Contract. The attorney will then register the signed Contract at the Register of Deeds. The transfer of purchase payments should only be done in the presence of an attorney. There is also a payment to be made to BIR which is called a capital gains tax but is in reality a value added tax. The tax amount of 6% is the responsibility of the seller but payment should be ensured by the buyers attorney. It is common practice for Filipinos to "undervalue" the transaction amount but as a foreigner , we suggesst you do not agree to this practice. It is illegal and could result in your deportation from the country or worse.
What are the most common problems with buying property in the Philippines?
One of the most common problems with buying property in the Philippines is not securing a legal Road or before purchasing the property. Buying property without a legal "Right of Way" often results in you having to buy a "Right of Way" from the adjacent landowners at inflated prices, additional legal fees not to mention the "Hassle Factor". Another common problem is buying property in a filipino's name and not securing a "Special Power of Attorney" agreement giving you rights to the purchased property. Buying property in a filipino's name without first securing a proper "Special Power of Attorney" agreement basically gives you NO Legal Rights to the property. A third major headache can be that the title is held by multiple siblings. All it takes is for one of them to get greedy at the last moment to scuttle the deal.
I was born in the Philippines but I am a U.S. citizen, can I own property in the Philippines?
Yes, if you where born in the Philippines you are legally allowed to purchase and own 1,000 square meters of land (including a house) no matter what country you currently are a citizen of.
What is the Cost of Property Taxes?(not to be confused with the capital gains tax to be paid at time of transaction, see above)
The Bureau of Internal Revenue in the Philippines states the Annual Property Tax Rate in the Philippines at 0.75%. In practice the actual rate is usually substantially lower due to under-value property assessments. For example: a house purchased in the Philippines for $100,000 (US) dollars would cost approx. $250 dollars (or less) in annual property taxes. Real Estate: Is the Philippines a good Real Estate Investment? Yes. Many foreigners have been buying Properties in the Philippines for both Investment and as a Retirement Destination. Rental Properties offer a good source of Retirement Income while Buying & Selling has been profitable for Patient Investors. In recent years the amount of American, European & Foreign investment has grown substantially in both Business and Real Estate.
I am looking for Beach Front Property, What is Available and How much does it Cost?
Beachfront property is generally more readily available and much cheaper the farther you go outside from the main city/town. Available Beach property is very hard to find near the City of Dumaguete. Much of the prime beach properties are already foreigner owned and this has been driving the price up and the availability down. Prices range from a low of $50/m2 to $100/m2.
Can I buy "White Sand" Beach Property?
Yes, there are powder white sand beaches available at some of the surrounding islands. Most of the desirable beach properties are already owned by many foreigner residents. Many times it is easier and much cheaper to purchase a beach lot which already has a house especially if that house needs major repairs.
I would like to buy a property with a view of the Ocean, Is there nice ocean view properties available?
Yes, there are many great Ocean view properties available and often very cheaply priced. Unlike beach properties, buyers have many purchase options when it comes to Ocean view properties. Ocean View and Beachfront property is generally more readily available and much cheaper the greater the distance from the main city/town.
I would like to build a house, Is it difficult and expensive?
No, it is not difficult to have a house built but you should expect to wait 4 months to a 8 months until final completion. Construction time can be compressed if the house plan is followed without many customer changes during the construction phase. We highly recommend that unless you have extensive construction experience yourself and are going to do the majority of work personally, you be very careful on whom you hire for your Home construction , There will be plenty of relatives and friends of friends who might seem cheap at the outset, but who usually turn out causing you endless headaches and increased costs by project's end. Hire a professional!